The cafe in Elsternwick that was meant to open after 19th January (see my post *
here
*) was open today alright- it was open for renovations! Garh!
Since we were both hungry and I was planning to force the boy to head to Chaddy after brunch for a day of shopping (hee) I decided to kill two birds with one stone and have brunch in Chaddy instead. First place that came to mind was
Capital Kitchen
. I'm glad we didn't go anywhere else- the food was so yummy! I loved the layout and decor as well- high ceilings, exposed brick walls, light airy space, long communal tables, comfy sofas, big giant wall clock 20 times the size of my head.....The Iphone doesn't really capture the beauty of the decor, I felt like I was sitting in an industrial warehouse somewhere in health-conscious LA!
There weren't many choices on the breakfast menu, but what they had were tried & tested goodies. For the first time in brightcopperkettle brunch history, we both ordered the same thing.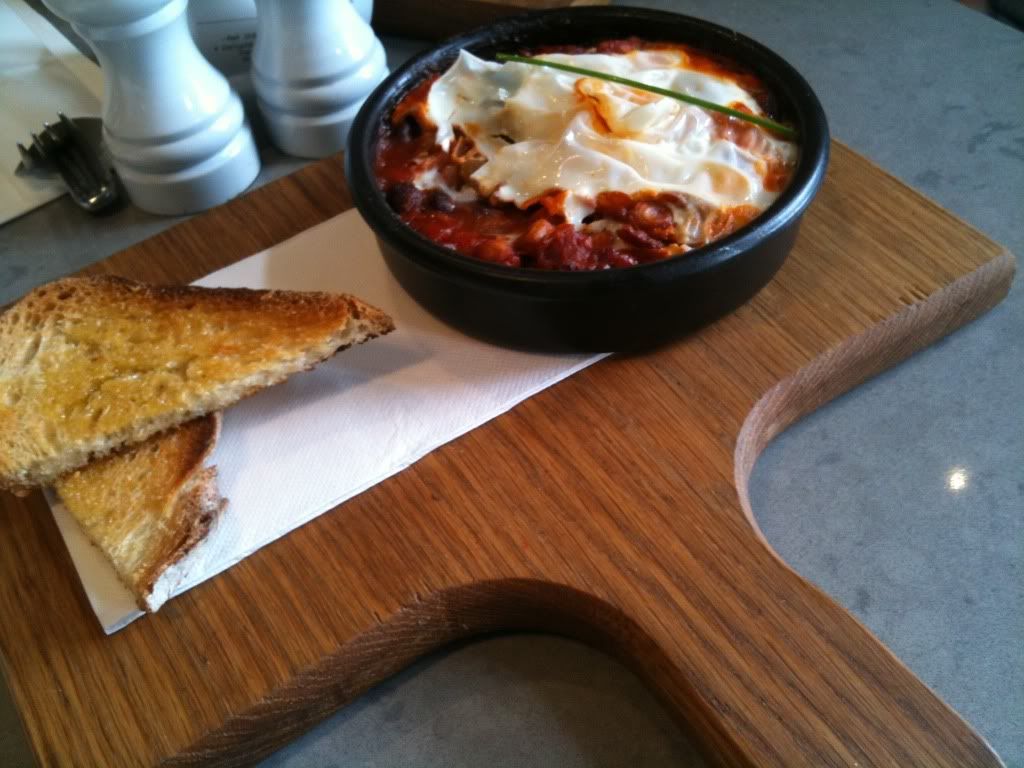 Spanish eggs with tomato sugo, egg, chorizo and buttered sourdough. The sourdough was a tad crispier than I would've liked it to be but it was good for mopping up all that tomato goodness. I would have preferred the egg to be more runny too- the yolk was cooked through :( - but the chickpeas and kidney beans in the tomato sugo- they were so hearty. And I don't really like chickpeas OR kidney beans in the first place so you can imagine how tasty this was!
And the soy chai was so good, I believe it was made with true blue spices- the empty glass deserved a picture on its own to showcase the deliciousness that was the chai.
Mmmm- I was surprisingly very satisfied with Capital Kitchen overall. Next time we're in Chaddy we know where to head to for brunch! There's banana bread with maple mascarpone calling my name :)