So today was Melbourne Cup and since I'm not a big gambler....the only thing I was looking forward to was the fact that it was a public holiday! Yay! Race that stops the nation? What's that? Lol. When you're in VIC, public holidays are few and far between so I'm always hanging out for one- especially if it means a shorter working week! :)
Decided to head into the city for some shopping. Ever since I stopped working in the CBD, heading into the city on a weekday or weekend feels like an absolute treat. When I was still working in the city I used to trawl the shops almost every lunch hour *guilty face.
I couldn't go for long either since I had to be back before dinner to resume kitchen duties (boooo) so I fully utilised my 2-hour tram ticket. Headed into Melb Central as there was something I had set my eye on that I knew my wardrobe would gladly welcome with open arms. First stop: Peter Alexander for my Gingerbread PJs! Result: Out of stock. Argh!


Stopped by my favourite chemist for some new nailpolishes but they hadn't restocked, so I left empty handed. Result: No damage done.
Popped by Target to check out the new Stella McCartney for Target range. They had some good pieces- beautiful lace tops and dresses, perfectly cut tulip skirts...other than that, I wasn't that impressed with the rest of the range. Result: Left empty handed.
I still had time on my side so hopped onto the tram and went to Spencer St to visit PA again. Result: They had my PJ bottoms in my size. Score!
Next stop: PA in Crown. Good thing was I never really had to wait for trams so I had plenty of time to spare. Visited the PA store- couldn't find my Gingerbread singlet top! Ahh I was blind. They were right at the front of the store. They had an S, so I had to ask the SA whether they had one in my size. Result: None left in store, one available at Chapel St- put on hold for me till they close at 4pm.
OMG. By then it was already 3.07pm and my ticket expired at 4pm! Should I head to Chapel St or not? Took the tram to Southern Cross Station and what do I see? My train leaving the station as I was heading down the escalators. Oh nooooo! The next train to South Yarra was in 8 minutes. Sigh. Waited and waited- good thing it was on time so I hopped on the train and got off at Flinders thinking that I should just head home. Don't know what made me change my mind but I got on the same train two carriages down from where I got off hahaha. Decided to take a punt and see if I would make it to Chapel St to get my hands on the sneaky lil gingerbread top that kept evading me.
I finally made it into the PA Chapel St store where I swiped my credit card and got my hands on the singlet top. Hurray. Result: pictures below! I also got home from Chapel St before my tram ticket expired too. I'm still amazed by how I managed to squeeze all the travelling in within a couple of hours, plus shopping and other stuff too.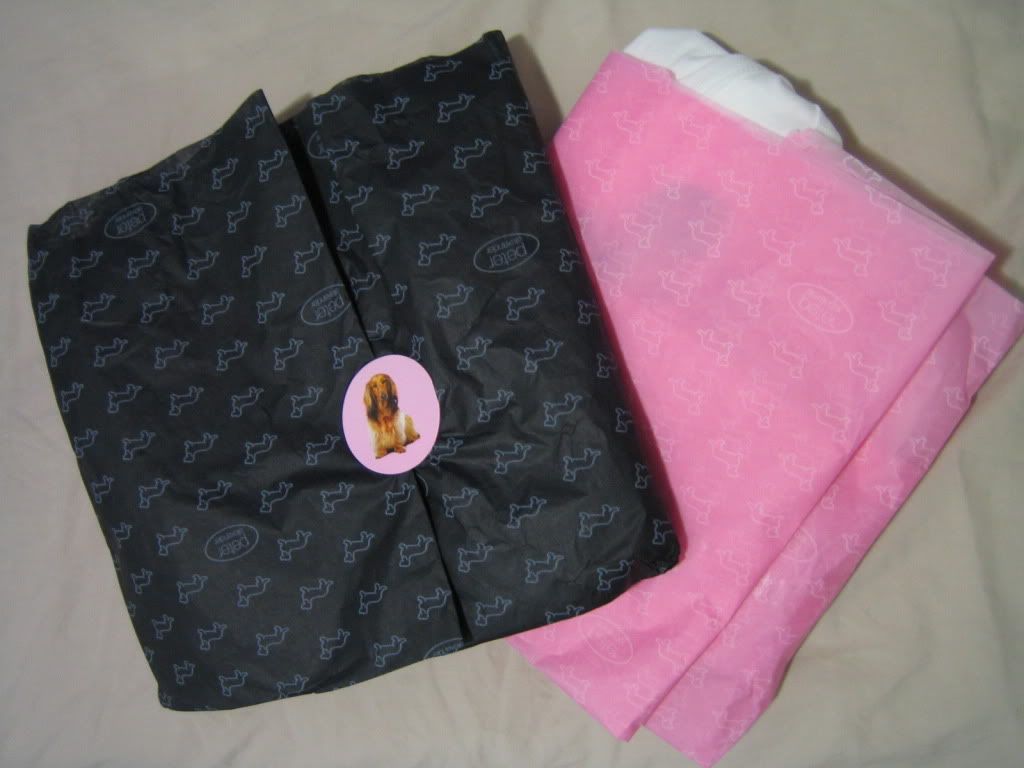 Two different tissue wrappers since I got them from separate stores.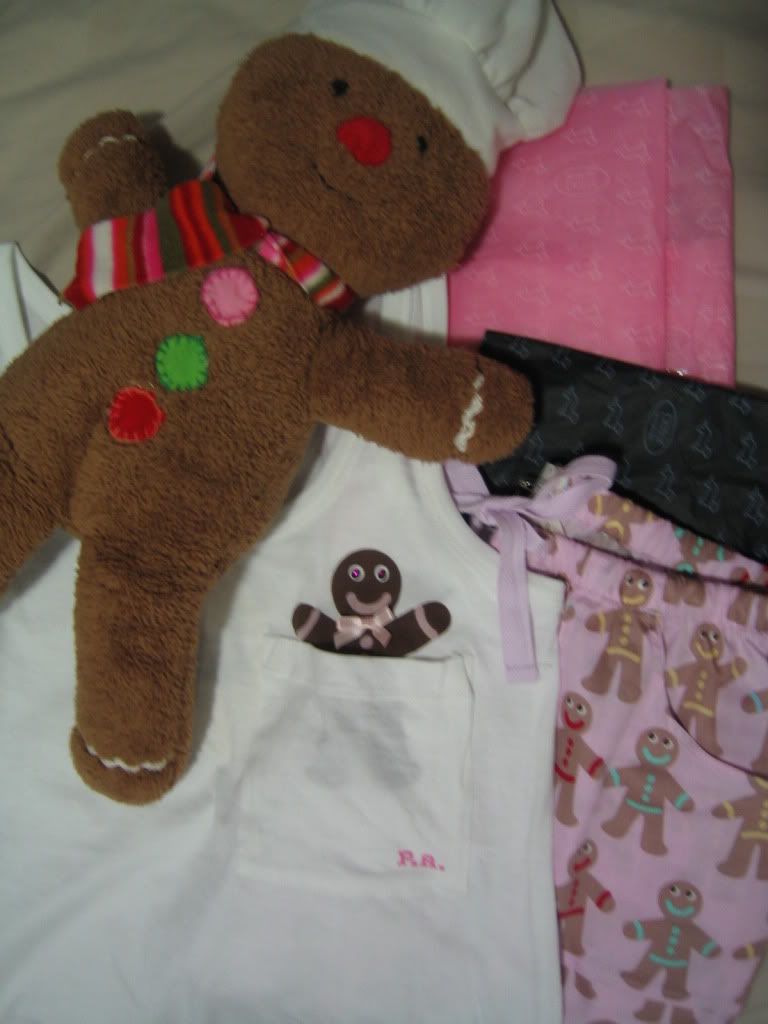 Tada! How cute is the top? Look at Mr. Gingerbreadman with his fuschia eyes trying to sneak out of the pocket. And the pants will be great for spring weather...can you believe it's still cold now? One more month to summer and we're still having 16 degree days! Not that I'm complaining...I love the cold :)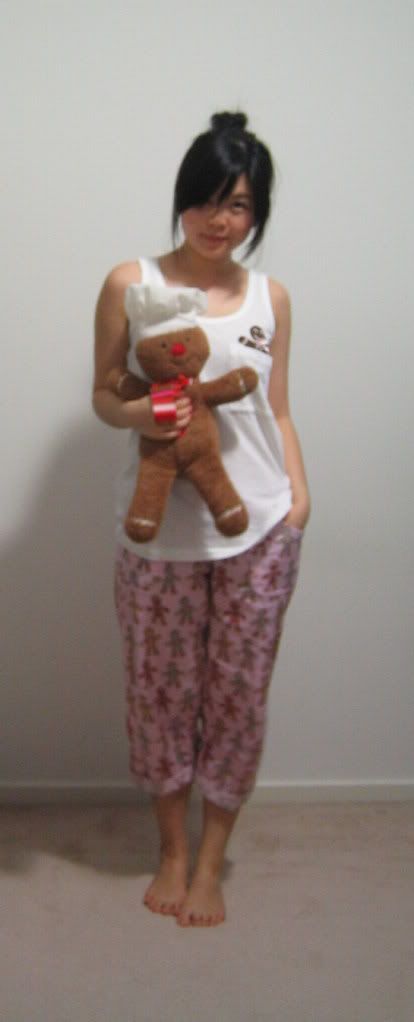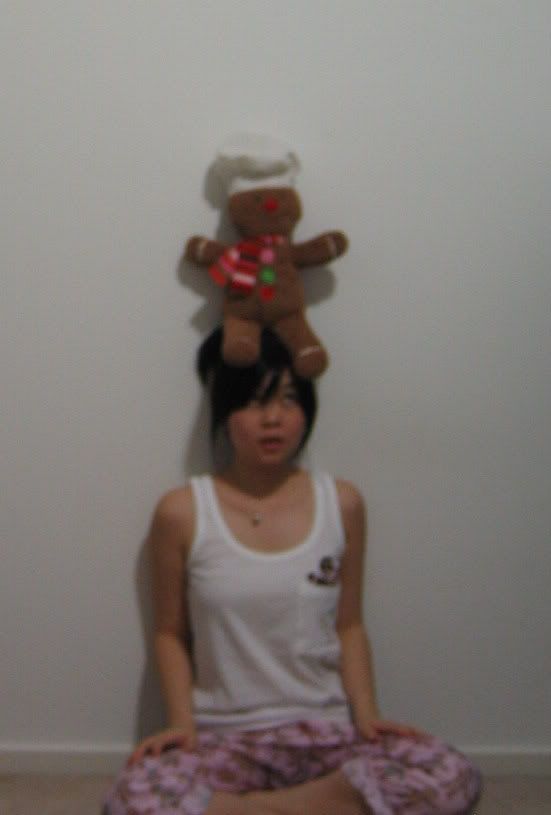 New PJs for sleep. Awesomesauce :D